LIA: Exploration and Immersion in Costa Rica!
Our LIA program is off to an incredible start in the land of Pura Vida! Read below to learn about the group's adventures! (Image transcribed below)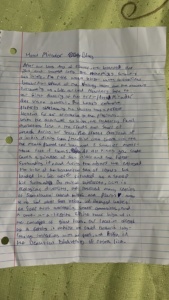 After a long day of travel we boarded our bus and headed into the mountains surrounding San Isidro. The ride was a blast with occasional beautiful views of the valley below and the mountains surrounding us. We arrived relatively late to our first dwelling of the trip: Hotel Mirador. The hotel's extensive properties overlooking the valley was a perfect location for our orientation to the program. With the altitude so high we regularly found ourselves lost in the clouds and short of breath during our stay. The hotel consisted of a main dining room and reception area where we ate our meals during our stay and two smaller sets of rooms. At all times you could catch a glimpse of San Isidro and the forest surrounding it enduring the nights we enjoyed the view of the beautiful sea of Lights we landed in. We were situated on a steep hill surrounded by thick rainforest rich in ecological diversity. We observed many species of beautiful colored birds and plants, many we had never seen before. We enjoyed walks on steep hills overlooking smaller communities, and a once-in-a-lifetime zip line tour high in the canopy of giant trees. Our location offered us a setting in which we could establish long-lasting connections with our peers, and bask in the beautiful biodiversity of Costa Rica.