"There's something about this place"
Our tireless and charismatic Notre Dame Academy students have been working hard on their community service projects and diving deep into the wonderful world of cultural immersion this week! The host community members are blown away by this NDA team's level of enthusiasm, lightning-quick learning and endlessly positive attitudes! 
The singing on the worksite is breaking new ground!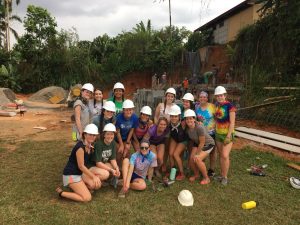 Here's an update straight from the field:
Hey everyone! It's Ali and Laeticia reporting live from Las Mercedes del Cajon, Costa Rica!  We are on work day #3 and have already finished painting the inside of the community center. We're still working on the wall outside and it's coming along nicely.

Today, we're starting a mural on one of the walls inside the salon to leave our imprint. We can all agree that we're having an amazing experience and time together.

Our host families are so sweet and have made it a priority to make us feel welcome. Every night we go down to the plaza to play futbol and then play cards with the kids in our homestays.  We all miss our families and can't wait to see you all, but don't worry, we're living the 'pura vida' lifestyle here in Costa Rica.


Love always,

Your Favorite World Travelers
In other news…
The students are loving their homestay families! They're sharing games, hanging out in the town plaza and playing plenty of futból. A few of our favorite snaps: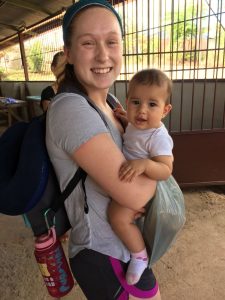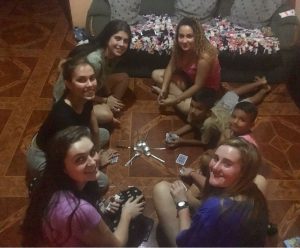 How can you possibly express what you're feeling in one line? These amazing students took the challenge…here's what they have to say!
" My brothers are teaching me to play soccer, and I love them." – Kaleigh
" Mi mejor amigo es Issac y el viene conmigo a los Estados Unidos." -Laeticia
" I learn something new everyday from my amazing brothers and sisters." – Eva
" Love being the daughters our host mother has always wanted but never had."- Meaghan and Clare
"My favorite part was when my host brother took out his Spanish to English flashcards to teach us Spanish. So cute." – Sheila
"My favorite part is seeing how our brother is always protecting his sister and being the dad of the family when their dad is at work." – Bridget
" I shouldn't have brought my sleeping sheet because it feels like home here. My family is so cute and the food is delicious." – Hannah
Global Routes Leader, Liz, has noted the girls' impressive willingness to step outside their comfort zones, challenge themselves and show the confidence to try new things, from ziplining to new foods.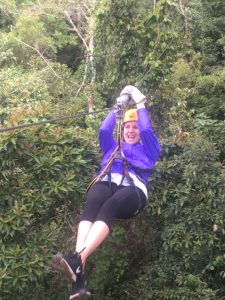 "I ate a termite!"- Trisha (learning to love bugs, she stepped up and tried edible termites during the rainforest hike.)
" I killed a huge spider and I didn't even scream." – Lillian
" No hablo español, but we are loving it here."- Ali + Jackie
More highlights address the wonderful food, sports, local fauna, and what sounds like a strange evening beverage choice:
"My favorite part is the huge soccer games in the community." – Kelsey
"Best. Food. Ever." – Meggie
"I got to hold a baby bunny." Marykate
"¡Pura Vida, bebe!" -Anna
"I'm leaving Costa Rica with new soccer skills, friends, and a sweet tooth because I drank a cup of pure sugar last night. Oopsie!" – Ali
And, of course, the singing…
" I only miss my bed and my momma." – Everyone

Just two more days in the community, final travel, and this group is headed home! Where has the time gone?
-Pura Vida!