Meet the Global Routes Alumni Leadership Board
We're thrilled to introduce and congratulate the seven alumni students who have been nominated to our inaugural Alumni Leadership Board!
If you take a moment to read their bios and memories below, you'll quickly see what a stellar group they are! This dynamite team will be working closely with the staff of Global Routes over the next year to brainstorm, create, strategize, and contribute their amazing ideas and perspectives to our programs.
Without further ado… here's our 2019 Alumni Leadership Board!
Rachel Glickman,
Storytelling Committee
Bio: Rachel is a high school student who recently relocated back to New Jersey after living a year abroad in Switzerland. Rachel is passionate about building and supporting global communities. She recently participated in a Global Routes trip to Nepal, where she helped rebuild a school that had been devastated by natural disasters. She is deeply interested in developing access to proper education for all children living in underprivileged societies. Her other interests include traveling, hiking, playing soccer, and spending time with friends, family, and her two dogs.
Best Global Routes Memory: Coming home from working on building the school and our host family would prepare us chai (tea) along with mangoes, which we enjoyed in front of the house with our host siblings and their baby goats!
Among your friends, what are you best known for? Looking on the bright side of life and appreciating every moment, as well as my spunky and humor-filled personality.
Favorite ice cream flavor: Cappuccino crunch (coffee ice cream with dark chocolate chunks and toffee mixed in)
Lydia Hybels,
Storytelling Committee
In summer 2018 I went on the Global Routes Nepal trip. I have grown up in the small town of Marblehead, Massachusetts living on the ocean. I am currently a Junior at Marblehead High School. Until freshman year of High School, I attended a seven week girls sleep away camp called Camp Wawenock that helped me to build lifelong friendships with girls from across the globe. I love to perform and be on a stage. I am a dancer at Lisa's Dance Studio and take classes in all styles, favoring jazz and tap. I enjoy competing at dance competitions throughout the year and I am a principal dancer in the New England Ballet Ensemble's production of the Nutcracker. I assist teaching dancers from ages 5-10, and work privately with a younger dancer weekly to improve her technique and performance. In addition, I am the lead singer and piano player in a band. At my high school I am a peer mediator and Spanish Honors Society tutor. I have spent time living with a family in Spain in order to practice my Spanish. I am a captain of my schools' Dance Team, and founded a club called Students and Seniors dedicated to connecting with senior citizens. My sophomore year I worked as a hostess at a local restaurant and I continue to work as a babysitter. I enjoy spending time in Maine with family while boating and waterskiing. My family has had a lasting impact on my love for travel and my values of generosity and compassion. With qualities of leadership and incredible wanderlust, in Nepal I acquired a love of service and became an enthusiastic adventurer. I am an Alumni dedicated to sharing my life changing Global Routes experience!
Best Global Routes Memory: My favorite Global Routes memory was waking up in Nepal and walking outside to see Mount Everest visible on the horizon. My Nepali family was gathered around me and we watched the beautiful scene, it was so surreal and I felt truly connected to my family. In addition, during the trek, on the first day I was nominated by my group and group leaders to be the first leader of our tribe. I was given the task of compromising roles for my peers in order to delegate some of our leaders' tasks. I found being the first group leader to be challenging but very rewarding, it is a memory I am proud of and will never forget.
Among your friends, what are you best known for? Among my friends I am a leader and a mediator. Whenever my friends have a conflict I am available to help them resolve it. I am also known as the smiley outgoing friend, my friends often comment on my positivity and open-mindedness.
Favorite ice cream flavor: Oreo
Livie Nute
Storytelling Committee
Livie is 16 years old and a Junior in high school. She lives in a small Colorado ski town, nestled at 9,000 feet, in the Elk mountains. Growing up in Colorado, she fostered an immediate love for the outdoors;  spending her weekends skiing, ice/ rock climbing, hiking, rafting, camping, and just enjoying the amazing views that her valley has to offer. Ever since her first big adventure- Thailand in second grade- Livie has had a love for the new experiences and cultural immersion that encompass world travel! She hopes to take a gap year upon completing high school, with the goal of revisiting her host family in Nepal while exploring more of the breathtaking Himalaya mountain range.
Best Global Routes Memory: My favorite memory from Global Routes was reaching Annapurna Base Camp. The views were so breathtaking, it made every difficult step along the way worth it. I felt so connected to my surroundings and the entire group that had embarked on this journey together. It is a day that I will certainly remember for the rest of my life, and was definitely one of the many outstanding highlights from the Nepal trip.
Among your friends, what are you best known for? Among my friends, I am most known for my outgoing personality (and my epic rap battle skills).
Favorite ice cream flavor: cookie dough
Owen Enck,
Programs Committee
Owen Enck previously participated in the Global Routes Nepal program. Having a passion for service and a love for cultural immersion, he now works to further improve Global Routes as a member of the Alumni Leadership Board. As a 16 year-old, he attends Atholton High School. Concerning his future endeavors, participating in service opportunities remains at the forefront of his interest. While studying takes up most of his time, Owen likes to go rock climbing and swim at the beach whenever he can. 
Best Global Routes memory: My favorite memory during my Nepal trip was having a soccer tournament with the local Nepali villagers. This experience was so amazing because while me and the Nepali villagers did not speak the same language, playing soccer together allowed me to connect with them, our smiles bringing us ever closer.
Among your friends, what are you best known for? My friends know me as a person who just loves to have fun. Whatever it may be, I enjoy trying new things and having a good time with the people I care about.
My favorite ice cream flavor:  Cookies and cream. It combines my love for Oreos, while also satisfying my desire for ice cream.
Gabby Diaz,
Programs Committee
Bio: Gabby is an 11th grade high school student from Brooklyn, NY who was always had a love for community service. She was eager to participate in a volunteer program over the summer and thought Global Routes embodied the exact values and attitude she was looking for. Gabby first heard about Global Routes through her school and participated in the program to St. Vincent and the Grenadines in the summer of 2018. On this trip, she met a wonderful group of people that were not only other students on the trip, but also the native Vincentians. Looking back on the trip, she sees it as one of the best experiences of her life because it allowed her to grow and push herself outside of her comfort zone.
Best Global Routes memory: My best global routes memory was the first day we ran the camp. All of the kids were so excited to see us and play with us even though they had never met us before and that was the moment I realized how much what we were doing really meant to them
Among your friends, what are you best known for? I am best known for my caring nature and sense of humor
Favorite ice cream flavor: Chocolate Fudge Brownie
Justin McCarty,
Alumni Engagement Committee
Justin is currently a high school student at Summit High School, New Jersey. He was part of the 2018 St. Vincent and the Grenadines Global Routes trip.
Best global routes memory:  One of his favorite parts of the trip was making dinner with the host families, and walking around and learning about St. Vincent.
Best known for: A lot of his friends say that they best know him for his computer expertise, in that, he knows computers pretty well.
Favorite ice cream flavor: Vanilla mint chip.
Anna Bohrer,
Alumni Engagement Committee
Hi my name is Anna Bohrer, currently a senior in high school and soon to be a student at New College of Florida. With Global Routes, I have travelled to the Grenadines and Costa Rica. I am adopted from Kazakhstan and raised by a mother who has taught me to love traveling and helping others. My life goal is to travel and see the world while helping others; I have started to achieve this goal due to Global Routes.
What am I best known for? To me, I was known as caring, shy, quiet, and a good listener. Currently, I believe I am known for being a good listener, caring, and open minded. I did not want to put biased words into people's mouths, so I asked a few of my peers who I went on the Global Routes trip with. They said: "fiercely loyal," "understanding about people's circumstances and experience,"  "honest..even when it's hard," "saw the good in people," and "a good leader." I, like everyone else, am striving to be a better person and growing from being shy and quiet to a stronger person.
Favorite Ice Cream: Phish Food (Ben and Jerry's)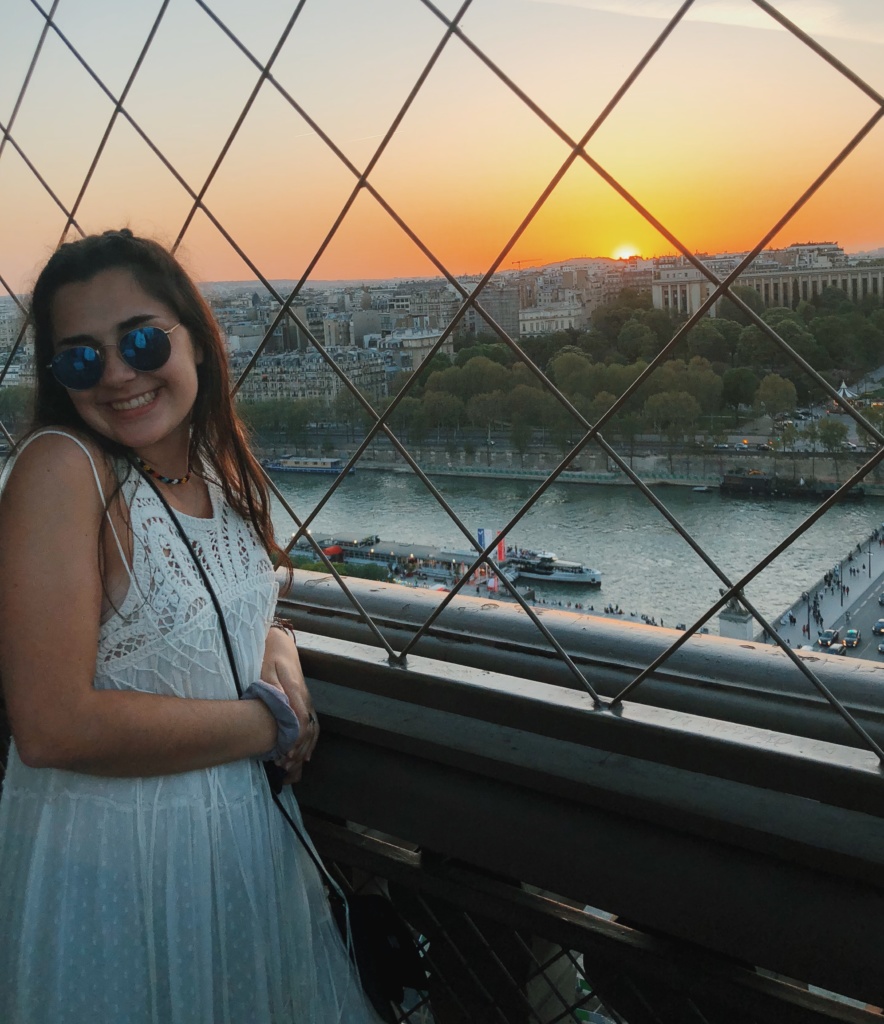 Avery McNiff, Custom Program Committee 
Avery is 16 years old and living in Norwell, Mass, just south of Boston. She spends her time skiing, hiking, running, playing soccer, going to the beach and enjoying everything the Northeast has to offer. Although winters in New England are quite chilly, it is Avery's favorite time of year because she can explore the beautiful mountains located across New Hampshire, Vermont, and Maine, to name a few. She spends lots of time with her family and her new puppy, Aspen. Avery went on a Global Routes trip to Tanzania in February of 2019. She attended the trip as part of a school program and loved it! She grew closer with her travelers and enhanced her global mindfulness. This experience posed opportunities for Avery to learn and grow. She has now become interested in traveling the world more and possibly enrolling in more cultural immersion programs in the future.
Emma Wall, Custom Program Committee
I am currently a Sophomore at Notre Dame Academy in Hingham, MA and I took part in the Tanzania exchange program in February of 2019. I live on the east coast near the beach, and before going on the Tanzania trip I had only ever left the country twice. While in Tanzania I built a school classroom and taught English lessons. As of next year, I will be an IB student, which is an academic program that focuses on taking a global approach to education. I hope to continue to travel and experience more cultural immersion.
Best Global Routes memory: On the last day of the trip, we sat in a circle and participated in an affirmative and complimenting activity that was the perfect way to round out the trip and ended with a giant group hug.
Best known for: Being a little soft-spoken, but when I come out of my shell I love to laugh and joke
around.
My favorite ice cream flavor: anything chocolate